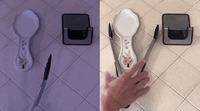 SpoonBest™ Features
• Stays Clean Often 
• Holds Tongs Closed
• Stainless Steel
• Silicone Non-Slip Base
• Heat Resistant up to 400°F/200°C
• Food-Safe
• Dishwasher Safe
• Space-Saving Design 
• Makes a great gift!
• FREE SHIPPING in USA
Shop Now
Reviews for SpoonBest™
My messy cooktop was so excited to hear about this! I'm forever propping up utensils to avoid drips and other contaminations. This should really be a huge improvement!

Stacey L
I have tried so many ways to avoid contaminating or dirtying something up, when setting down a utensil, while cooking. Your design is perfect.

Robert Z
I looked at the page and laughed at the idea and just about hit the back button. I saw the video and became a backer [on Kickstarter]. This looks like a great concept. Good luck with this, I can't wait to get mine!

Scott F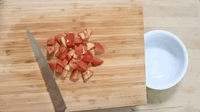 ScooperDuper™ Features
• Keep hands clean
• Move food neatly
• Cut directly on it
• Food-safe materials
• Space-saving design (stores easily between cutting boards)
• Makes a great gift!
• FREE SHIPPING in USA
Shop Now
Reviews for ScooperDuper™
"It's really made food prep easier. - I bought this to make food prep easier. I have nerve damage in my arms and hands so I was struggling to cook like I used to. This helps me clear the chopped food off the cutting board as I'm going before it becomes cumbersome, and it's easier to manage than picking up the cutting board itself. I love it. It's crazy how such a simple thing can be so helpful."

Happy Customer (Oct 17, 2021)
"An Excellent Product! - I bought a one of these when they were on Kickstarter. It is an extremely useful gadget that is well worth its cost and its room in the drawer. The bend in the middle feature is simply brilliant. You can pick up you chopped onions or whatever, bend the scooper and neatly put them wherever you want them. It is easy to clean and just simply elegant in its design. I use it practically every day."

Steven Dubnoff (Dec 15, 2021)
"More useful than you'd think - I had always used a knife to carry chopped food from the cutting board. Then, I bought a much sharper knife which doesn't glide across the cutting board very easily. This product allows me to scoop up everything easily and transfer it to a plate or pot, and also scrape off bits that stick to the knife. Easy to clean. I now use it daily." 

Happy Customer (Nov 18, 2021)